MAKING A DIFFERENCE
Silken Twine Charity is a non-profit foundation committed to helping pediatric cancer patients and providing financial support to the families of children fighting cancer. The foundation will offer emotional and educational support by bringing friends and family together.  Silken Twine Charity aims to relieve the stress of sustenance and logistics for families and friends so that their foremost concern can be helping their loved ones recover.
Caring for a sick child
Caring for a sick child can be stressful under any circumstances. For families with limited resources, being at the bedside of a hospitalized child may require taking time away from work, arranging care for siblings at home, and investing in transportation, hotel stays, and meals on the go. Managing household expenses under these circumstances can be particularly challenging, and support from organizations like Silken Twine can have a big impact. Since beginning their work in December of 2019, Silken Twine Foundation has been able to assist more than 50 families at Children's Hospital of Philadelphia (CHOP) with grocery store gift cards to help them manage costs while caring for their sick children. On behalf of these families, we extend our gratitude.
Jess Nambudiri, MSW, LSW
Silken Twine has helped me
Silken Twine has helped me greatly. My 14 year old daughter was diagnosed with Germ Cell Cancer in May 2021. Like many we were devastated with this news. Catherine began treatment a couple weeks later. Since then she has had seven rounds of chemo and a Stem Cell Transplant. She also underwent 30 radiation therapies. While she was receiving treatment I was still able to work but she started to get sicker as treatments went on. I had to resign from my job to be with her. Losing my income was concerning since I'm a single mother. Silken Twine charity has helped put my mind at ease so I can tend to my daughter. It's a scary situation but knowing I have donations like a gas card give relief. Thank you for your kindness! I really appreciate it.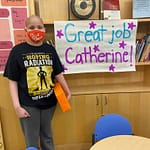 Colleen LeCompte
Message from Alicia
I would like to thank you for helping my family in this time of need!! We truly appreciate it on this long journey with my daughter!!
– Sent in response to an E-Gift card for ACME gifted to Alicia.
Alicia
RESOURCES
Bringing Solace to Those in Need