MAKING A DIFFERENCE
Silken Twine Charity is a non-profit foundation committed to helping pediatric cancer patients and providing financial support to the families of children fighting cancer. The foundation will offer emotional and educational support by bringing friends and family together.  Silken Twine Charity aims to relieve the stress of sustenance and logistics for families and friends so that their foremost concern can be helping their loved ones recover.
Caring for a sick child
Caring for a sick child can be stressful under any circumstances. For families with limited resources, being at the bedside of a hospitalized child may require taking time away from work, arranging care for siblings at home, and investing in transportation, hotel stays, and meals on the go. Managing household expenses under these circumstances can be particularly challenging, and support from organizations like Silken Twine can have a big impact. Since beginning their work in December of 2019, Silken Twine Foundation has been able to assist more than 50 families at Children's Hospital of Philadelphia (CHOP) with grocery store gift cards to help them manage costs while caring for their sick children. On behalf of these families, we extend our gratitude.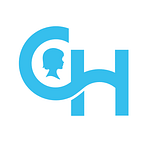 Jess Nambudiri, MSW, LSW
Silken Twine has helped me
Silken Twine has helped me greatly. My 14 year old daughter was diagnosed with Germ Cell Cancer in May 2021. Like many we were devastated with this news. Catherine began treatment a couple weeks later. Since then she has had seven rounds of chemo and a Stem Cell Transplant. She also underwent 30 radiation therapies. While she was receiving treatment I was still able to work but she started to get sicker as treatments went on. I had to resign from my job to be with her. Losing my income was concerning since I'm a single mother. Silken Twine charity has helped put my mind at ease so I can tend to my daughter. It's a scary situation but knowing I have donations like a gas card give relief. Thank you for your kindness! I really appreciate it.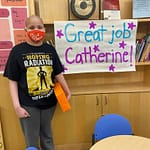 Colleen LeCompte
I was diagnosed with acute
I was diagnosed with acute myeloid leukemia one month before finishing my high school freshman year. It was shocking and devastating to me and my whole family. I had to leave school, be hospitalized, and begin intense chemotherapy immediately.
I spent the majority of the next eight months in the hospital and the clinic while undergoing the brutal treatment. Cancer took away so much from me – I lost my ability to attend school, to be with my friends, to sleep in my own bed, to go out of my house when I was allowed to go home, to eat fresh fruits and vegetables, to eat anything at one point because I had so many sores in my mouth… I lost all my hair, a lot of weight, and I lost all control over my life. It seemed impossibly hard to deal with cancer at times.
But I didn't lose my love for music – and music helped me overcome all the hardships. I play several instruments – piano, violin, and guitar, I sing in an advanced children's choir, and I compose music. I went to a magnet arts middle school, where I was the orchestra concertmaster, and I am currently in a magnet high school, where I also play in the orchestra. I was very lucky that the hospital where I was treated for cancer has a wonderful musical therapy program, and a very passionate musical therapy specialist, who helped me see the beauty in the world when I was in a lot of pain, very nauseous, desperate, and unsure whether my life will ever be the same. She brought me instruments to play, composed and sang songs with me, and let me be my old happy self through music.
During my prolonged stays at the hospital, I played several concerts for the other patients, doctors, nurses and the rest of the staff. I played my violin, while my implanted port was hooked to a machine that was transfusing me with blood or platelets, and the music therapist and I played keyboard and guitar and sang for everyone. Many in the "audience" – doctors, nurses, patients, staff – were moved to tears, and it made me feel as if I was helping them in my own little way through music to feel better about their own day and life. It felt good to give back to the people who were working around the clock to save my life. They had become my second family and I wanted to do something to make their lives a bit brighter and happier.
When I finished treatment, I vowed to return to the hospital often and continue to brighten the lives of patients, doctors, nurses, and staff there. My school friends and I formed a quintet and started going to the hospital for holidays (Christmas, Valentine's Day, etc.) and giving concerts. My friends are very happy to be a part of this, and I am thrilled I had found a way to give back to the people who took such great care of me when I needed it the most. And I will continue to do that and look for other ways to contribute to the betterment of society.
I don't know yet what I'd do with my life, but I know music will always be a part of it. Maybe I will become the next music therapist at the hospital where I spent some of my darkest days in. After all, music is the one thing that cancer did not take away from me. It's the one thing nobody or nothing will ever take away from me. And, as long as I can sing, play, and create music, I will use my talent and skills to make other peoples' lives better – even if it is just for an hour between grueling chemotherapy treatments. It's so worth it. I know it firsthand.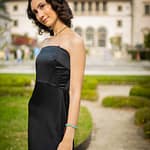 Sophia Treadwell
RESOURCES
Bringing Solace to Those in Need